STAINLESS STEEL BELLOW HOSE PIPES
Stainless steel bellow hoses are flexible type of ss braided hoses which are used in extreme high temperature applications. These hoses are corrugated from specially drawn thin wall tubing to a micrometer tolerance throughout the entire length. The ss hose assemblies are available in sizes ranging from ¼" id to 8" id and at any required lengths. We even have testing facilities for these assemblies if the customer insists on testing before the assemblies are handed over. Unlike other types of assemblies, the ss hose assemblies are tig welded instead of the crimping. In case of requirement of a hose with higher pressure, we can supply the ss bellow hose assemblies with double braiding. The major advantage of ss bellow hose assemblies is that they are far more flexible compared to Teflon hoses. In ssbellow hose assemblies, the pressure of the hose and the temperature will be inversely proportional ie, when the pressure of the hose goes up, its temperature comes down and vice versa. All kinds of fittings, Table flanges, Lap joint flanges, banjos, males and stand pipes can be tig welded to these assemblies based on the customer requirement. These hoses are mainly used in tyre industry, freezer ammonia applications, plywood factories, refineries etc.
Construction: Flexible tubing, single thickwall corrugation, without packing, annular corrugation hydraulically formed.
Profile: Close pitch corrugation
Pressure Range:Upto 150 kg/cm³ or higher against specific requirement.
Size Range:6 mm upto 150 mm inner dia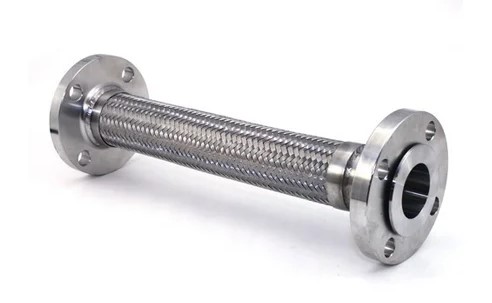 Application
The main application of Stainless Steel Corrugated hose assemblies is where synthetic rubber hoses & plastic hoses do not work well i.e. for hot water, steam, corrosive liquids, acids, ammonia, sulphuric acid etc. Commonly used in Refineries, Shipyards, Chemical Industries, Tyre Retreading Industries where corrosion and vacuum are frequenting issues